Installations🔗
Collaborations🔗
Memento Sonus🔗
Sound installation at Skillinge Teater. Summer 2022.
skillingeteater.se/kulturevents/memento-sonus
Pop-Up-Sound-Garden🔗
Outdoor sound installation at Skillinge Teater. Summer 2022.
skillingeteater.se/kulturevents/pop-up-sound-garden
MusicalFieldsForever🔗
Since 2000 I've done several interactive art installations together with Anders-Petter Andersson and Birgitta Cappelen. Here is our website... musicalfieldsforever.com
and direct links to our installations...
Traps🔗
Paper speakers in collaboration with Jenny Michel. Galerie FeldbuschWiesner 2015, Städtische Galerie Wolfsburg 2015, SMAC-Berlin 2016, Museum Wiesbaden 2017, Kunstverein Tiergarten 2017
Go fishing🔗
Interactive video in collaboration with Anne Pajunen for Supermarket Art Fair 2016.
The Intelligent Street🔗
Trans-national sound installation UK/SE. Opening 5th November 2003.
My own installations🔗
Flicker🔗
Flickering fields of light, seen through our closed eyelids create imagery that question perception, brain function and sanity. A light installation for Musica Sanae. Museum Kesselhaus, Berlin 2019
low life🔗
An errant autonomous work of "live coding", that hacks at its own code until it crashes. First shown at the Musical Metacreation weekend in Sydney, June 2013.
spamspamspasm🔗
Incoming junk mail taking over your desktop while a friendly voice tells you about how to "get out of debt".
Made for 'Ljusfesten' at Fylkingen, Stockholm 2002. Made with Max and nato.0+55+3d.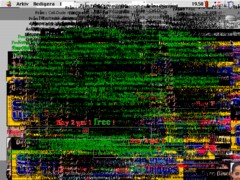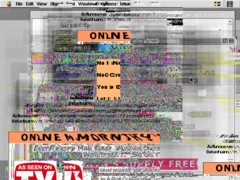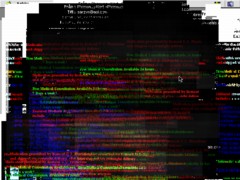 says who_?🔗
Video/audio installation. Hacking into live Web-TV channels and distort content in realtime. Made with Max and nato.0+55+3d.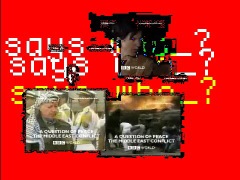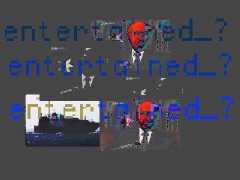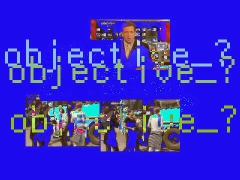 construct (2001)🔗
An installation weaving digital patterns. See code-pages for JavaScript and Max sourcecode. (2004 with added sound).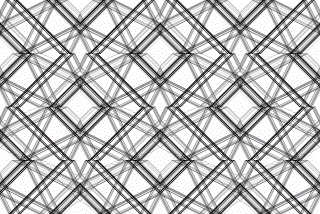 Other Installations🔗
Some installations I have programmed for other artists...
access in mind🔗
Interactive Institute / Emotional Studio. Written in Pd.
Blush🔗
Video installation as part of Visceral Space, SU-EN Butoh Company 20-year celebration exhibition. Written in Cinder.
CRASH RIDE6🔗
A performative sound work by Sisterloops.
Do they know it's White Noise Christmas🔗
Installation by Erik Bünger and Steven Cuzner. Made with SuperCollider, MaxMSP, Processing, AppleScript and some Python.
FOSSIL🔗
By Alexandra Nilsson. An interactive sound installation at Himmelsberga, Museum of Öland, 24 June – 31 August 2023.
Hallå där!🔗
With Peter Lundén, Interactive Institute / Emotional Studio. Written in Pd.
The Way Earthly Things Are Going🔗
Scrolling realtime stock market LED display for Emeka Ogboh's installation. Made with MaxMSPJitter and JavaScript.
There is also a version adapted for berlinartweek 2021 with fulldome planetarium projection. This was made with Processing.
Untitled 2018🔗
By Emeka Ogboh. Generative graphics with tones mapped to colours (using Scriabin's synesthetic system). Music by Halim El Dabh. Written in openFrameworks.
Vatt🔗
Permanent outdoor 12 channel sound installation in Stockholm by Ann Rosén. Written in MaxMSPJitter.