Video🔗
Also see my blog:visuals
/f0🔗
01 alias for visual experiments. Collaborating with a multitude of performance artists, dancers, composers and improvising musicians.
For years I used and developed my program called 'torsdag'. It was built mainly with nato.0+55+3d, but also had some Jitter and SoftVNS2 in it. Here's a screenshot. The program got exposed to quite some wear - all the performances, the many nice collaborations and all those strange circumstances/venues I performed in - all made permanent marks in the software. I believe there wasn't a single performance for which I didn't tweak something. I sometimes still use it for VJ gigs. It's a bit rough here and there but also has its more well-planned parts beneath the surface.
These days I develop and use 'onsdag' for most of my visual work. It is a complete rewrite and extension of 'torsdag'. It runs on OSX / Jitter.
klipp av🔗
Audiovisual experiments and realtime synchronised source manipulation. Duo with Nick Collins. London, Tokyo, Berlin, Amsterdam, New York, Stockholm, Helsinki, Copenhagen, Sydney...
Dates and demos at our website klippav.org (offline).
Here's an old example (22.7MB) and stills from some gigs we've done.
A YouTube live clip: ICMC 2007 Copenhagen
Ström🔗
Video for Mattias Petersson's fantastic piece of music.
Ström is a 45-minute minimalistic piece for five loudspeakers, live-electronics and live-video, based on an open-minded, artistic approach towards electricity.
DVD release by FyRec (FYDVD 1002, 2008)
Also part of the DVD compilation: Sound Art IV - The Swedish scene (stim/svensk musik, 2009)
More info on Mattias' homepage and a short version are available on vimeo.com/46156362.
L'Orchestre Disparu🔗
Trio with Anne Pajunen (voice+viola+electronics), Anna Svensdotter (flutes) and me (projections).
A big dog in a small package🔗
Trio with Sabine Vogel (flute+electronics), Mattias Petersson (sound processing) and me (projections)
See videos on vimeo.com/album/1866855.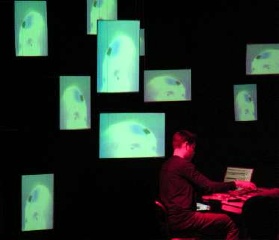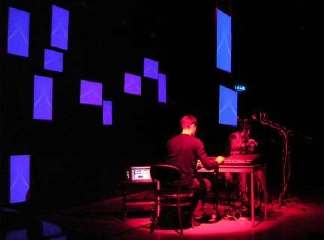 Fylkingen, Stockholm. photo: Sören Runolf
_1 a big dog in a small package, Norbergfestival 040730
Skare🔗
Per Åhlund (sounds&editing), Mathias Josefson (sounds&editing) and me (videos&live-visuals). Dates and demos at inhospitable.se/skare and also myspace.com/skaresolstice
CD 'solstice city' out April 2009 on glacial movements
Kretslopp🔗
Flute-video duo with Anna Svensdotter.
Homepage: myspace.com/atervinning.
Custom wireless controller: kretsloppKontroll.