Travel is not what it used to be. No glamour, no fun - just painful transportation and a waste of time.
I did my usual trick for long flights: skip sleep the night before. On the plane order a whiskey and then pull the blanket over your head... Crash. You'll wake up for breakfast and it'll feel like morning. Hardly any jetlag. This time I stayed awake for about 30 hours.
After a nice BBQ at k-ita, I spent the last night in Berlin packing and backing up my harddisks. In the morning I did pass out on the flight Berlin-Frankfurt but only for a short moment. As this flight was delayed I was a bit worried, and it turned out I had to run to the gate to catch my flight to Nagoya.
But I got there, my whiskey came and I fell asleep. Unfortunately my seat was next to the toilets and the plane was packed with Japanese tourists (elderly people) that couldn't sit still. So lots of people hanging around just next to me in the aisle. The blanket helped to ignore them.
At Nagoya airport Erin and Yosuke from CMC/IAMAS came to meet me. Of course my big bag hadn't made it and was still in Frankfurt. But I had my wallet, computer and toothbrush so I was fine. The bag came the next day.
So now six months with only 2 bags worth of stuff. Basically just my computer, some cables and adapters and some clothes. What a relive.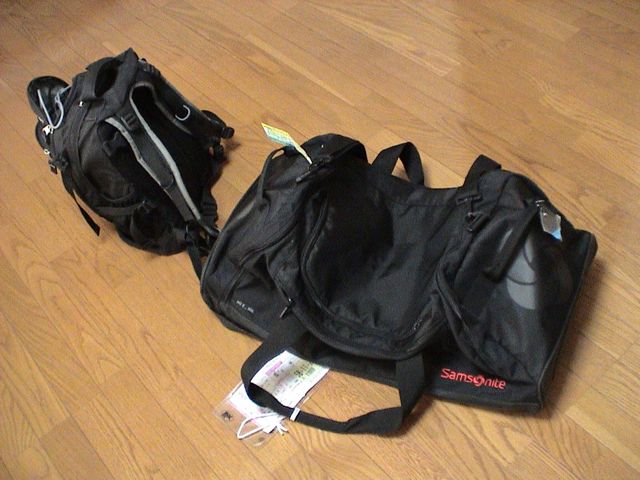 Thank you ap and bi for the nice bag!