Here's how to set up the proto WM8731 based audio codec module from MikroElektronika and use it with SuperCollider on a Raspberry Pi 3.
Power off the RPi and connect the proto board to the RPi with jump wires like this...

Proto         Raspberry
-----         -----
SCK       ->  RPi 12
MISO      ->  RPi 38
MOSI      ->  RPi 40
ADCL+DACL ->  RPi 35  //both proto pins go to the same RPi pin
SDA       ->  RPi 3
SCL       ->  RPi 5
3.3V      ->  RPi 1
GND       ->  RPi 6

See this pinout diagram for help with the RPi GPIO numbering.
Power on the RPi and open a terminal and type...
sudo

 nano /boot/config.txt

Find and uncomment the first line and add the second...
#dtparam=audio=on


dtoverlay

=

audioinjector-wm8731-audio

Press ctrl+o to save and ctrl+x to exit.
sudo

 reboot

Again open a terminal and type...
alsamixer

First press F5 to show all controls, then...
enable item 'Mic' (space)
set item 'Mic Boost' to 100 (up arrow key)
enable item 'Playback Deemphasis' (m key)
disable item 'ADC High Pass Filter' (m key)
set item 'Input Mux' to Mic (arrow keys)
enable item 'Output Mixer HiFi' (m key)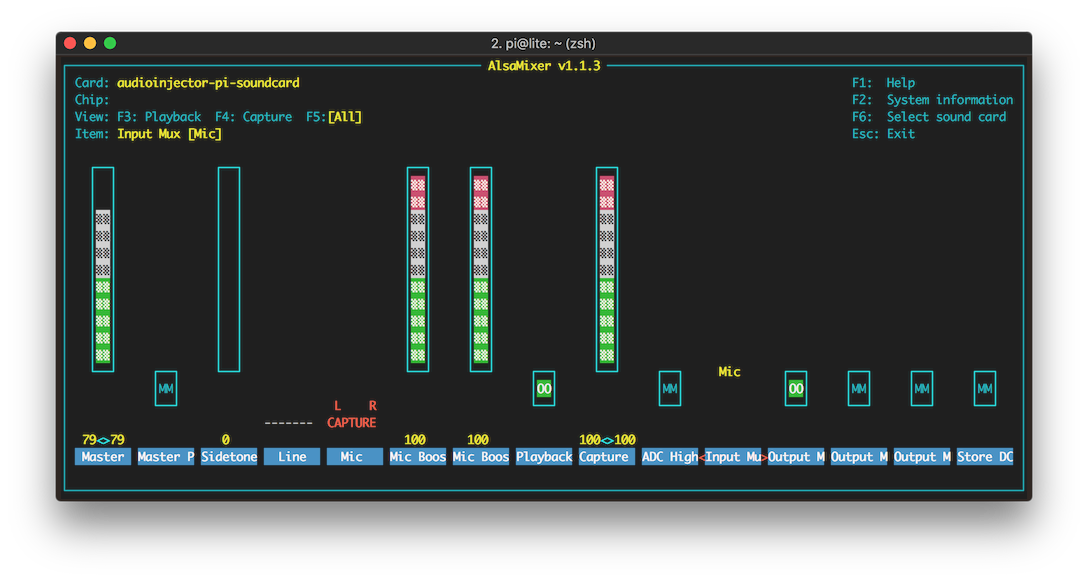 Now you should be able to start jackd with for example...
jackd

 -P75 -dalsa -dhw:0 -r48000 -p256 -n2

and get decent in/out sound with only 5.3ms latency.